Tinet is a cartoonist, illustrator, letterer, graphic designer, editor, translator and pig-keeper.
Other parts of Tinet's internet presence are, for instance:
The main website




Another blog


The Blog of Swine


Chirayliq


and some photos on Flickr


Favourite entries
Photography:
¤ Mum and Ainur were visiting
¤ Sunny Saturday
¤ Cheap thrills
¤ Labour Day
¤ Definitely no Sergei Elmgren III
¤ Mum was here
¤ Nordens ark
¤ Cool weather today
¤ Piggies in my bed
¤ Black & white
¤ Two collages
¤ Bankhar mä!
¤ Lilac skies
¤ Kickass industrial sites
¤ Mayday
¤ Views from Pankow and a backyard
¤ Kugelblitz & cuddly 'street art'
¤ Shameless exploitation of workers and communists
¤ Berlin, Berlin
¤ Cuteness
¤ More Berlin
¤ Ouch, my feet ...
¤ Frosty collage
¤ Another fine old house hits the dust
¤ Horror and pigeons
¤ The smooth sides of houses
¤ Streets of Lund 2006
¤ Hungry for Hills
¤ Skärhamn
¤ Foggy sun
¤ Furry puppies
¤ Snow and a sleeping little baby
¤ Around the railway tracks in Lund
¤ The moon
¤ Lund in October
¤ The steaming sea
¤ Misc. scenes from Orust
¤ Territorial disputes
¤ Road Trippin'
¤ Sergei's tail
¤ Yellow
¤ The sleepy kingdom of Princess Mitsu
¤ A house, graffiti and a rook
¤ Green
¤ Feather canyons everywhere
¤ Sky and earth
¤ Misc. perspectives on Orust
¤ Mushrooms
¤ Fauna
¤ Flora
¤ A window
¤ Green landscapes
¤ My babies
¤ Dead house
¤ Dead elk
¤ Views on our home
¤ Pictures from a spontaneous cycling tour
¤ A parking lot in Malmö
¤ Twilight sky
¤ A once nice house
¤ Serpieri, the flying pig
¤ Yukata madness
¤ Rundown allotment garden
¤ Bristly!
¤ Furry!
¤ Home
¤ Dead animals
¤ Ängavallens gård
¤ Gothenburg
¤ One of the 2-3 pictures that actually came out perfect
¤ Where animals travel to their death
¤ Winter in Kävlinge
¤ Orient and Occident - blurry concepts!
¤ My baby is such a tease
¤ Eggs are interesting
¤ Here's the wuffie!
¤ The Carpathians
¤ Anti-kitsch
¤ Sunset over Kävlinge
¤ My cuddlymunchkins
¤ Streets of Lund
¤ Food
Dreams:
¤ Elephant digging up old bones + a burglary
¤ MSU in my subconscious
¤ Bad puppy
¤ The mansion
¤ A dream of menstruation in Sin City
¤ My dreams are so nice sometimes (aka Russian Policewoman)
¤ Desperately trying to reach MGU
¤ Blood, devastation, death, war and horror dream #6
¤ Family life
¤ Dreams, bloody dreams
¤ I need a sword
¤ Tony Blair & Lenin haunt me
Stuff:
¤ My thoughts on the presidential elections in France
¤ Just google it! - Nana version
¤ Meat has it all
¤ The amazing world of Swedish copyright laws
¤ Anna Politkovskaya
¤ It's about time we all get out and vote for love!
¤ Bilal's Nikopol vs. Moore's Promethea: Being possessed by gods and forced to have sex in comics
¤ Tinet's kitchen of pain

¤ The hymen is an evil MYTH!!!
¤ Gouache
¤ Pigasso paintings
¤ The Light comes from the Right
¤ Some kind of Valentine
¤ 2006 - a card and a snow Mitsu
¤ Serilda
¤ Standing on eggshells
¤ Mmm ... surströmming
¤ Rudolfo from the rapeseed fields
¤ The freedom to not choose
¤ Red China Comics
¤ Till alla svenskjävlar som inte klarar av att sätta komma i ert eget språk
¤ The Kostroma Elk farm
¤ The boob diaries part 4 - conclusion
¤ The boob diaries part 3
¤ The boob diaries part 2
¤ Breast cancer can be fun
¤ Why can't I wear a skirt and still be one of the guys?
¤ Garlic update #2
¤ Garlic update
¤ EU garlic is no good against vampires.
¤ I want to learn Maltese!
¤ Dirty men in the public library
¤ The marvels of life #4637
¤ My new life as a one-armed bandit
¤ Severiina exposed
¤ Severiina - a tale of an obsession
¤ On drawing techniques
¤ TschöRmen
¤ I might be going insane.
¤ 15 reasons
Some favourite blogs:
artifex
Baci dalla provincia
Кладовка
Saunahoney
Yellow Peril
Nyt on yö.
Minä kuljen yksin
tyhjiä katuja.
En tiedä, mihin olen menossa,
hyvä kun tiedän mistä
olen tulossa,
ja ruumiissani
soi tuhat kaunista ja
voimakasta sävelmää,
minun koko menneisyyteni,
ja silmissäni loistavat
tuhannen ihmisen silmät,
silmien takana tuntemattomuus,
tätä naista ei tunne kukaan,
se ei ole vielä täysin syntynytkään,
ei kukaan tiedä
mitä se on tulevaisuudessa.
- Mirka Lattunen
Necuvintele
El a întins spre mine o frunză ca o mână cu degete.
Eu am întins spre el o mână ca o frunză cu dinţi.
El a întins spre mine o ramură ca un braţ.
Eu am întins spre el braţul ca o ramură.
El schi-a înclinat spre mine trunchiul
ca un umăr.
Eu mi-am înclinat spre el umărul
ca un trunchi noduros.
Auzeam cum se încetineşte sângele meu suind ca seva.
Eu am trecut prin el.
El a trecut prin mine.
Eu am rămas un pom singur.
El
un om singur
- Nichita Stănescu
Kunst ist nicht ein Spiegel, den man der Wirklichkeit vorhält, sondern ein Hammer, mit dem man sie gestaltet.
- Karl Marx
The Hermit's Song
A hiding tuft, a green-barked yew tree
Is my roof,
While nearby a great oak tree keeps me
Tempest-proof.
I can pick my fruit from an apple
Like an Inn,
Or can fill my fist where hazels
Shut me in.
A clear well beside me offers
Best of drink,
And there glows a bed of cresses
Near its brink.
Pigs and Goats, the friendliest neighbours,
Nestle near,
Wild swine come, or broods of badgers,
Grazing deer.
All the gentry of the county
Come to call!
And the foxes come behind them,
Best of all.
To what meals the woods invite me
All about!
There are water, herbs and cresses,
Salmon, trout.
A clutch of eggs, sweet mast and honey
Are my meat,
Heathberries and Whortleberries
For a sweet.
All that one could ask for comfort
Round me grows,
There are hips and haws and strawberries,
Nuts and sloes.
And when summer spreads its mantle
What a sight!
Marjoram and leeks and pignuts,
Juicy, bright.
Dainty redbreasts briskly forage
Every bush
Round and round my hut there flutter
Shallow, thrush.
Bees and beetles, music-makers,
Croon and strum;
Geese pass over, duck in autumn,
Dark streams hum.
Angry wren, officious linnet
And black-cap,
All industrious, and the woodpecker's
Sturdy tap.
From the sea the gulls and herons
Flutter in,
While in upland heather rises
The grey hen.
In the year's most brilliant weather
Heifers low
Through green fields, not driven nor beaten,
Tranquil, slow.
In wreathed boughs the wind is whispering,
Skies are blue,
Swans call, river water falling
Is calling too.
- Unknown old Irish poet

Sunday, November 21, 2004
Posted at 12:38 pm by turukhtan



Link of the day - the Kostroma moose farm
http://moosefarm.newmail.ru/index.htm
(English and Russian)
Quotes from the website:
"When the USSR decided to become worldwide, in the 1930s, war-moose were expected to solve the problem of deep snow cross-country cavalry passability. Moose were trained to carry armed riders and not to be gun-shy. The work hardly could be done before Soviet-Finnish war (1939-1940), and, only several years later, the Second World war revealed that the cavalry became only a pix. [...] After the war, moose was regarded as potential meat and milk domestic animal who will eat lop on wide wood-cuttung areas of USSR."
"... moose are not fools, being free, they will leave a meat farm. So, Kostroma farm turned into a milk one with no more than 10-15 milch moose cows (no more because this is a summer food capacity of adjacent forests). The idea of thousand meat moose herds died forever, but Kostroma farm survived because healing properties of moose milk were discovered. Free ranging moose eat hundreds of plant species, mainly shrubby and arborous, which are not eaten by other ungulates. Perhaps, this predetermines moose milk unique healthfulness. Now the milk is used in the
Ivan Susanin Sanatorium
for peptic ulcer and some other diseases healing."
Posted at 12:51 am by turukhtan



Monday, November 15, 2004
This morning I was, surprisingly enough, woken up by my doctor who actually called me and wanted to tell me about the results of the tests. Well, the good news is that the ultra sound guy still hadn't changed his mind, but the bad news is that the sample guy didn't take enough tissue, and couldn't say anything.

So, I'll have to do it again. Hopefully, the nurse won't try to hold my hand this time ...

(I hope I didn't sound too hysterical or drugged or what not on the phone. We watched Porco Rosso until 2 a.m. last night, so I wasn't quite awake when she called.)
Posted at 11:43 am by turukhtan



MSN search must be really crappy, because someone apparently got here by searching for "pics%20of%20girls%20eating%20cum%20xxx" ... There sure are no *pictures* of that around here ...
Anyway, last week I went to the University hospital in Lund to have the tests done on the nameless thing in my left breast. They didn't want to take any X-rays "because I was so young", but they did ultrasound. Judging from the shapes on the grainy screen (even grainier than my TV), while the nurse kept trying to cover my other breast with a towel, the doctor said that it was most likely to be some completely harmless connective tissue mutation. Of course, he couldn't say that for sure, so they also had to take a sample of the thing.
After waiting a couple of hours, I lay down on a bunk, and a nurse and a Polish and/or Jewish little doctor bent over me. The doctor took a really big needle, and the nurse took a firm grip of my hand. She kept asking me if I was all right all the time, as if it was something horrible somehow that the doctor was rooting around in my breast with this giant needle. What's a little bit of physical pain?! The only thing that possibly distressed me at that moment was that the nurse was holding my hand (I don't like it when humans touch me ... *shudder*). Or maybe she was afraid that I'd try to fight myself loose and escape or something.
Well, on Wednesday or so I'm going to call the doctor I saw first, in Kävlinge, to hear the results (of course, the doctor won't call *me*, but I'll have to call *her* - that's how it works in today's capitalist world).
Posted at 12:04 am by turukhtan



Monday, November 08, 2004
Yes! I got into the top 10 at
Orisinal.com
's
pig piling game
!!!
I'm "Sergei's mum", of course ... Too bad it distorted the '.
Now, will I *please* go back to my homework?
Posted at 2:12 pm by turukhtan



Friday, November 05, 2004
A few weeks ago, I found a little lump in my left breast. It'll probably turn out to be something completely harmless and boring, but in any case I'm going to the hospital on Tuesday to have some tests done on it. (One involves squeezing my breast between two glass plates to take x-rays of it, and the other inserting a large needle into it to take a sample of the lump. Yay, that will be fun!)
Well, when I first discovered it, my first thought was: "No! What if it's cancer?!"
Then, my second thought was, "Yes! What if it's cancer and they'll have to remove the whole breast?! What a neat scar that will make!!!"
(Well, it's not like it would make too big a difference whether I have a breast there or not - the ones I have can only be found with a microscope, anyway.)
Another thing about cancer that can be fun is chemotherapy. Of course, it will make you feel sick, but then, you get to wear wigs when your hair falls out! Also, I suppose it's not only the hair on the head that falls out, but also those irritating bristles on the legs. Another plus. The minus on the latter is that the hair grows back again if the therapy is successful, but at least you regain your health ...
Well, before anyone starts thinking of accusing me of severely bad taste, let's return to the wigs. If I could afford it, I'd buy several wigs to wear at different occasions and moods.
There are plenty of wig shops on the internet ...
Baron Unlimited
has a lot of both serious and funny wigs for men and women.
The first one
could be for 'normal' occasions (like school), and
the second
for more demanding occasions (job interviews, etc.).
Féke wigs and hairpieces
has a special focus on people under chemotherapy. Unfortunately, they don't allow right clicking on the website, so I can't give them free advertisement as effectively as I'd like to. Or so I thought, before I tried with my ancient Opera 5 browser (I keep it around, since it's pretty much bug proof and thus suitable for surfing after
hairy men
...).
Well, it would certainly be nice to have different lengths to choose between (long hair can be a pain in the ass, even if it can look quite nice). If I'd have a short wig ("Laurie"), a mid-length wig ("Brandi") - but not blonde like in the picture, a really long wig ("Janice") and a slightly eccentic curly wig ("Chelsea"), then that would give me some room for play.
| | |
| --- | --- |
| | |
| "Laurie" | "Brandi" |
| | |
| "Janice" | "Chelsea" |
Of course, it's hard to tell right now what styles and colours would really suit me - I've just picked the wigs that looked nice to me right now. But trying on many different wigs would certainly be half the fun!
Posted at 8:24 pm by turukhtan



Saturday, October 23, 2004
K5TR visits Southern Thule, South Georgia and the Falkland Islands

Once you get past London, you're bound for breathtaking views of water, icebergs, rugged cliffs, and rusting ruins of industrial waste with penguins and seals living among it all.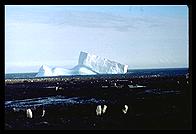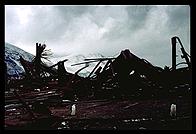 (photographs courtesy
George Fremin III - K5TR
)
Posted at 1:49 pm by turukhtan



Wednesday, September 15, 2004
When we went to the supermarket again, we checked the garlic, and it turns out that this particular garlic is not EU garlic, but Egyptian garlic. (There is Spanish garlic, too, which is slightly more expensive, but equally devoid of stench and strength.)
Well, the fact that the garlic is from Egypt is not so good, either.
In Egypt, a big part of the problem with the agriculture consists, basically, in the national debt, because it gives the loan-givers, such as the IMF, the World Bank and US AID, influence in the country's economical policies. The loan givers have been encouraging a more market-oriented policy, and this has led to a number of factors that have changed the Egyptian agriculture dramatically.
Prices have become higher, which is beneficial for the big landowners, but not for the small family farms and the poor city dwellers - whose number rises ever more, as the small scale farmers have no choice but to leave their farms and move to the cities. Subventions for grain, fertilizers and machines have been abolished (again beneficial only for the big landowners). Last but not least, large-scale efforts have been made to direct the agriculture towards cash crops - exclusive products like strawberries or, indeed, garlic, which are meant for the foreign market, and eliminate the possibility of self-sustaining agriculture. While the agricultural potential is used for cash crops, the country has to import its own food from other countries, and thus becomes all the more dependent on others.
Well, judging from the assortment in our local supermarket, Sweden is pretty much in the same situation right now.
Posted at 10:44 pm by turukhtan



Sunday, September 12, 2004
Posted at 10:18 pm by turukhtan



EU garlic is no good against vampires
Mihai chewed up a piece of raw garlic the other day. After the first bite, he shouted, "Waah! What's this?!" No, he had not found a new friend in his food. What made him so astonished was the lack of aroma.
Back home in Romania, he told me, he would smell of garlic for weeks if he ate one small piece. His aunt was constantly complaining that she could not cook anything that wasn't supposed to taste strongly of garlic after having cut up some garlic, because the smell on her fingers was so strong and lingered in everything she touched.
Indeed, I had noticed the same during my visit, and had found Romanian garlic to be much stronger than what I was used to, just like the taste and smell of all other vegetables, fruits, etc. was much fuller and nicer.
We tried to figure out why there was such an immense difference in Swedish and Romanian garlic. One reason could be that the Swedish garlic has been bred and/or manipulated to reduce its smell, as many (stupid) people don't like the smell. Another reason could be that the mass production prevalent in EU farming has produced not only tasteless, watery tomatoes and cucumbers, but also tasteless, watery garlic.
Considering that Romania will become a member of the European Union in 2007, this is quite alarming. If the Romanian farmers will follow the EU Common Agricultural Policy's incentives and turn to mass production, and eventually produce garlic that is just as devoid of any strength and stench worth mentioning - then what will protect them against the vampires?
This weak garlic will not help against those creatures, Mihai assured me. And he should know.
Read more about the European Union's Common Agricultural Policy:
http://www.rspb.org.uk/
http://www.panda.org/
Posted at 8:06 pm by turukhtan